Who are M-T-K-I-D-U* you may ask well they are none other than a group, Murray Turpin(M18J92T), Nicholas Nesbitt(kidu), Hayley Junkin (Chinxxx(vj)), of South African artist musical story tellers forging a new visual sonic landscape, or if you don't like my drab wannabe music journalist description hear what they have to say in their own words and visuals. Here's an interview with Murray (he's the M-T, Nick is the K-I-D-U) of M-T-K-I-D-U*
Kaos Blac: Who are you guys I read a bit online of who you are but I want you to tell the world who you are currently as I seen there has been an addition to the line up.
M-T-K-I-D-U*: Well, thats a tricky Q. We've permutated a few times...we started out as live mash-up act (just Nick and I:2004), (the experimental phase if you will) combining various Samples (noise,narrative,beat etc) from different records and beats that we had created. Then we moved away from mashups to solely original construction. From narrative to beat and then the inclusion of the visual element ( the first album TFTD 0.5 which was instrumental based) and then the introduction of a VJ (Chinxx) because Nick and I weren't coping doing a live beat construct set and visuals at the same time and finally where we are today a live multi media act (soon to be released the second album Shakawon) incorporating, the visual, various instruments and samplers, our voices ( plus our nu member on vocals
Bee Diamondhead
)
Kaos Blac: How would you describe what you guys produce together as a group. What do each of you bring to the mix? What is the creation process like.
M-T-K-I-D-U*: We create narrative based multi media environments performances. At the moment Nick and I do most of the sound construction, narrative development, song writing and illustration, Chinxxx handles most of the actually animating and Bee's new so thus far shes helped out on writing and singing on a few new songs.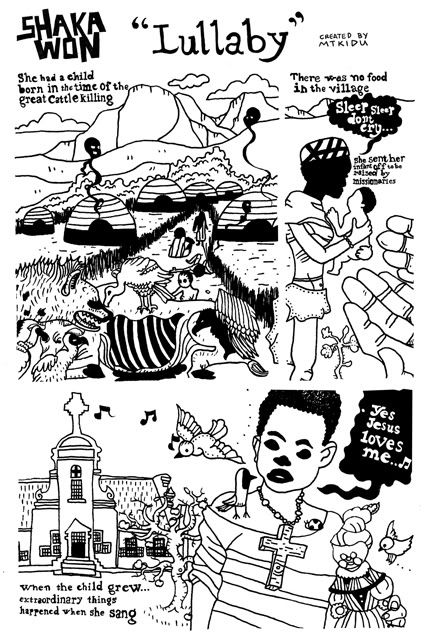 -
Page 1 of the M-T-K-I-D-U* SHAKAWON COMIC
As far as the creation process goes, we always start off with solid base of research as a lot of our narratives, songs and characters revolve around South African History, Rural and Urban Myth and go from there, infusing it to varying degrees with our contemporary world. Secondly: we start with the story writing, which leads to character design, environment design, font design and so on for the comics. Which leads to beat construction, followed by song writing and finally animating for the live shows and albums....
Kaos Blac: Who do you admire as a creative fore-father (mother).
M-T-K-I-D-U*: We have a few but Constructus (S.African based project from the late 90's), Gorillaz and fingerthing are quite possible the most influential.
Kaos Blac: Also where do you all see this group going in the next span of time?
-
M-T-K-I-D-U* Bassline07
M-T-K-I-D-U*: We have just opened, (8th of August),the exhibition for the next album(Gordart Gallery)...which contained, process work, illustration (narrative and character development etc) T-shirts,stickers, limited edition silk screens and digital prints, which will be followed by the album launch in the club context: Johannesburg 4th of September followed by Cape Town, Pretoria, Stellenbosch, Durban aka a South African Tour and then hopefully if we make enough money and or get an international management/distribution deal we want to go on a Euro tour First and then one day hit The U.S of A :)
Kaos Blac: Sounds great one last thing, what is shakawon?
M-T-K-I-D-U*: We could tell ya but where would be the fun in that... :)
Respect and Regards
Well I did a little finger walking to find out what exactly Shaka Won is (precisely) here's what all I got,
I don't know much about the past or the matter of fact meaning behind the term "Shaka Won", but M-T-K-I-D-U* seem to be in full grasp of the future.
The following is a link to down load their first album, check it out and show love to these guys and (girl),
For more on M-T-K-I-D-U* find them on facebook at,
http://www.facebook.com/pages/MTKIDU/7884414245?re
f=ts#/pages/MTKIDU/7884414245?ref=ts
and
www.myspace.co/mtkidu